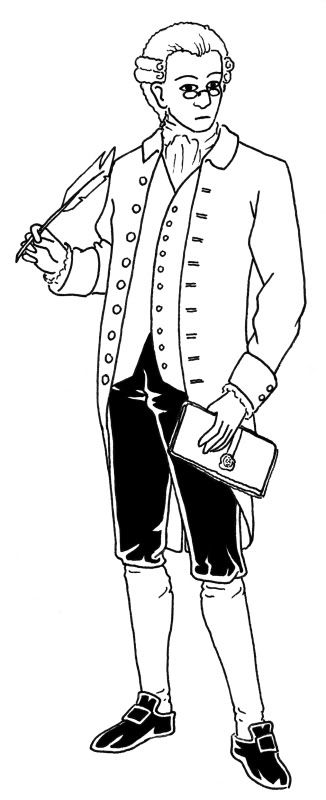 Name: Mr Cecil Humperdinck Gallows
Concept: Legal Guru
Authority: 5
Jibe: 2
Charm: 3
Investigation: 5
Violence: 1
Composure: 2
Good At: Digging Up Obscure Points of Law, Dispensing Legal Advice
Merit: Insufferable Know it All
Flaw: Cracks Under Pressure
Team: Defence
Role: Attorney
Cecil Humperdinck Gallows is not nearly as posh as his name sounds.
He has not got the Public School education of his fellows just a Grammar school certificate and a successful apprenticeship.
He does not have a chip on his shoulder though. In fact he idolises Barristers like Havelock and Fortinbras doing a job his fragile nerves cannot cope with.
One thing he cannot stand though is underhandedness. If something isn't by the book he will object to it in the strongest possible terms.
He has the somewhat naive belief in order and procedure that is very much at odds with his highly corrupt colleagues.
He nevertheless goes along with their schemes when forced to do so. He doesn't believe it his place to question his "betters."
Gallows is a slightly stooped man in his late 50s with greying brown hair.
Relationships
Havelock: "Mr Havelock was a courageous Soldier and is a fine Barrister but deeply flawed as a gentleman. He consorts with the basest of harlots wasting a great deal of his earnings upon them. I mean I know gentlemen occasionally shell out for the pleasures of the flesh but the man is an addict. His methods are as unconventional as his morality and I have exchanged frank words with him about them on many occasions. Still I do admire him for all his faults."
Annie: "When Mr Havelock told me one of his disreputable woman acquaintances would be helping us I had visions of some filthy, vulgar tart traipsing all over our office. Not so. Miss Golding, though of humble stock, is good natured, well mannered and utterly devoted to a rather naive ideal of justice similar to Mr Havelock's. How she ended up in such a disreputable state is quite a mystery. Her fondness for Mr Havelock is plain to see. I must speak to her about the possibility of her marrying him. Mr Havelock needs a wife to wipe out the black marks on his character and I sense she needs something more than a steady income from cold and loveless debauchery."
Fortinbras: "The man is a disgrace to a profession he didn't even want in the first place. He's brash and vulgar in his cross examining, he's sneaky and duplicitous in his investigations and by God does he have contempt for the law he's supposed to serve. At least Mr Havelock is an idealist. Fortinbras cares for nothing but his own political aspirations. He belongs on the stage not in court."
Lady Cecilia: "A remarkable lady. Forthright in all her views and a champion for proper conduct and morals. She is a bit extreme though. Too quick to stick to the letter of the law and demand the gallows where mercy would be appropriate. I never say as much in her presence though. It's not my place to question one of her lofty station."
Swallow: "Never liked Thief Takers. Even when I've worked for Prosecution Barristers I kept my distance. Swallow is a good example of why. A vulgar uncouth little man too quick to raise his hand against guilty and innocent alike. One day that vile temper of his will be his downfall. You mark my words!"