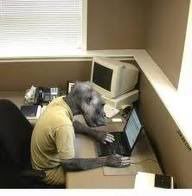 I appreciate in this modern age finding the time to Roleplay is going to be tricky.
However there is good news...
INTERNETZ TO THE RESCUE!
The Internet has been an asset to proper Roleplayers as much as World of Warcraft has been a curse. One of the possibilities offered by it is the Play by Post or PbP game.
PbP has the advantage that you don't need to all be in the same place at the same time. However there are some unique issues with it that need adressing. Since I stupidly forgot to include them in the book here they are!
Issues With PbP
Dice: Obviously for the sake of impartiality you will need a Dice Rolling program. Personally I recomend Invisible Castle
Dithering: The main advantage of PbP can also be a curse as you are sitting around waiting for lazy bones to post! A simple solution is that failure to respond within 24 hours without due notice results in your Team being fined a Case Points. Another 24 hours loses another point and 3 days total without response gets your turn skipped and a third lost Case Point. Thanks lazy bones! Do be reasnoble when people do inform you of a delay but do be merciless when they don't!
Writing it Up: Obviously it's easier to write up a game when you have every word in print on teh internetz. Do give this a shot and post the links here!
Annonymity Annonymity on the internet is responsible for lots of stupid shit. Just load up a youtube video, any video and read the comments!
Fortunately in a potentially raunchy game like Tough Justice annonymity can give you the confidence to get deeper into Character than you would normally do in person. This can be a lot of fun but obviously check with your Games Master and group first.
Ranks: Most forums have a Ranking System. Giving these Ranks in game benefits encourages posting in game and out.
Comming up (when I work out how to use it) we will be launching Tough Justice Online a PbP game where you can play with the author and friends.
Stay tuned...