So what's this rant about? With a title like that it must be some scary shit!
Nuclear Armageddon?
Nope...
Insane Religious Fundamentalism?
Nope...
Climate change?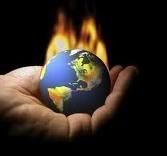 Nope...
Chavs?
Well they're all a problem but not so much as this.
No I am talking about the greatest threat to the survival of humanity.
That is...
CHILDREN!
Well not Children as such but rather the fact there are far too many of them.
This isn't nearly emphasised enough in the media so here's some perspective...
Sir David Attenborough: The foremost personality in the British study of Ecology. More than just a distinctive voice, an elite camera team and a seemingly unlimited budget Sir David is a leading light in his field, the conservation of the natural world.
So he clearly knows his shit, and when he speaks up on his specialist subject people listen.
Or should do...
Recently he pointed out a horrifying fact. That since he started making nature programmes back in the 1950s the human population has doubled from 3 to 6 billion. As he said then "we cannot go on like this."
Has there been a massive outcry? No there hasn't clearly! The comment would have been cut if it wasn't a live broadcast and everyone dismissed it as the ramblings of an old man: Ageist bullshit. Half of the intelligence of this man would be an achievement for most educated people. It would be a downright miracle for the common pleb.
Attenborough has a point and the time for action is now.
As it stands having children is right held by anyone with functioning reproductive organs. I believe it should be a privilege held only by those responsible enough to use it.
I'll admit a bias here. I have a pretty shitty family background. I'm pretty sure it's my parents who are responsible for the 7 years of crippling depression and anxiety I have suffered so far and am likely to continue to suffer until my, probably early, demise.
Trying to convince me the nuclear family is all sunshine and rainbows is a losing battle: I know the reality first hand. There are neglectful and abusive single parents but there are just as many neglectful and abusive "respectable families."
But this bias gives me an insight. I know firsthand that not everyone capable of being a parent deserves to be. The social problems that the right often blames on single parent families and the lack of a "father figure" are nothing of the sort. They are the result of bad parenting regardless of specific circumstances.
Oh and far from being part of the solution Religious attitudes are part of the problem. With annoyingly backward views on all the technology that could save our civilisation from quite literally devouring itself and a dedication to the various forms of "go forth and multiply."
Newsflash arseholes! When God said that there were 2 humans on Earth: Now there are 6 billion. We need to grow the fuck up and make the tough decisions. The American left, for all their clinging to absurd Political Correctness and failure to understand irony have a very good joke about this primitive attitude (Jay Leno's originally I think.)
"Life begins at Conception and ends at execution."
It's supposed to highlight the stupidity of the pro death penalty-anti abortion mob in America but it has a wider point that is often missed. Badly brought up kids go on to commit crimes and criminals go on to be punished.
With the damage that the comfortable lifestyles we aspire to, nay demand, inflicts on the world around us it is simple. Less people less of a problem. We cannot exactly cull a sentient people, but we have the technology to control fertility and ensure that only those who deserve the privilege of raising children... be they a married couple, an unmarried couple, a gay couple or a single person... get it whilst those who don't are prohibited from creating a life they will go on to irreparably damage.
It's interesting for me because under these kinds of conditions I would never have been born. Frankly though I'd prefer that to living a shit life on an overcrowded planet.
Please feel free to leave comments. Usual policy, anything goes but outright abuse and spam goes straight in the bin.